Digital Toolkit: CMS Medicaid Block Grant Guidance
Background Statement
On Thursday, January 30, 2020, the Centers for Medicaid and Medicare Services (CMS) issued guidance that will allow states to shift program funding to block grants through the use of 1115 waivers. The proposed "Healthy Adult Opportunity" is only the latest peg in a years-long coordinated effort to overhaul Medicaid as we know it. CMS Administrator Seema Verna made the announcement during an event titled, "Transforming Medicaid: A New Opportunity for Better Health." In reality, such a measure threatens, if not dissolves altogether, access to health care — doctor visits, medical counsel, and life-saving medications, treatments, and therapies.   
 In general, this move is part of a broader partisan campaign to undermine the Medicaid program and the Affordable Care Act (ACA) that began the moment Repeal and Replace failed in congress in 2017. That campaign includes budget proposals which would cap Medicaid funding for all states and all populations, the new proposed rule on Medicaid fiscal accountability, the public charge rule and the recent partisan Supreme Court decision to lift the preliminary injunction on its implementation, Medicaid work requirements, and efforts at the state and federal level to oppose and undermine Medicaid expansion, and the Texas vs. California ACA repeal case.  
Key Messages
1. The CMS "Healthy Adult Opportunity" Proposal Paints A Pretty Picture of Putting Patients First and Strengthening Medicaid, But The Truth Is In The Details.
All low-income adults, with few exceptions, are at risk. This means coverage and benefits for our most vulnerable — pregnant women, children 19 and older, and young adults aging out of foster care are on the chopping block.
CMS is offering states less oversight and only the *potential* of savings in exchange for taking on huge amounts of financial risk, putting state taxpayer dollars and constituent lives at risk.
The CMS proposal gives states the green light to indiscriminately (or discriminately) cut the Medicaid program, with no oversight and no consequences.
2. Medicaid Block Grants Will Have Deep-Reaching Financial Implications That Will Cause Deep Cuts to Already-Thin State Budgets.
Elected officials who accept block grants are making poor choices for the Medicaid program and for the families they represent.
No matter how CMS spins it, block grants will squeeze state budgets and force deep cuts to Medicaid programs — many people will bear the burden of those cuts.
3. CMS's Medicaid Block Grant Guidance Is Illegal and CMS Has No Authority To Impose It.
The Centers for Medicaid and Medicare Services is attempting to do administratively what it could not do in Congress.
HHS cannot legally block grant Medicaid; only Congress can do that.
A block grant fails the foundational test for an HHS 1115 waiver — it simply does not "assist in promoting the objectives" of the Medicaid program.
4. Elected Officials Who Opt to Take Block Grants Will Choose Partisan Dogma Over the Needs And Interests Of Taxpayers And Medicaid Beneficiaries.
Medicaid block grants will harm families who depend on Medicaid in the form of losing access to maternal health visits, life-saving medications, and critical medical appointments.
Though our country has never acted on previous attempts to pass Medicaid block grants to states, expected consequences are that efforts to expand and improve health care will be stymied, resulting in fewer people who can access Medicaid.
This move is part of a broader partisan campaign to undermine the Medicaid program and Affordable Care Act that began the moment Repeal and Replace failed in Congress in 2017.
5. Data Show That If Parents Have A Harder Time Accessing Medicaid, Then Their Children Are Likely to Lose Coverage.
Parents and their children can least afford to bear the uncertainty of accessing healthcare insurance that block grants will inherently cause. However, millions of people with disabilities, children, and others will be at risk to lose access to Medicaid insurance because CMS is attacking low-income parents.
The enrollment of children in Medicaid has already declined by hundreds of thousands for the first time in several years. Medicaid block grants will further erode their access to care, at such an important juncture of their life.
Leading economists report that every $1 invested in child health programs yields $1.78 in government savings. Scavenging for savings on the backs of our kids is foolish and wrongheaded.
6. History Tells Us Adult Dental Coverage Will Be at Risk Due To Medicaid Block Grants.
Critical services that states are not required to offer, like dental coverage for adults, will be immediately on the chopping block.
History has shown us time and again that when state budgets are tight oral health programs suffer.
Block grant financing will provide an incentive for states to eliminate their Medicaid adult dental coverage, a crucial support to families' health and wellbeing.
7. Medicaid Block Grants Are A Morally-Reprehensible Measure Rooted in Politically-Motivated Game Play.
It is disheartening that the Centers for Medicaid and Medicare Services (CMS) are complicit in efforts to annihilate Medicaid, efforts which will leave the 72 million people who depend on Medicaid — children, seniors, people with disabilities, working people — in the lurch without access to health care.
The Trump administration engineered a multi-pronged strategy to protect access to affordable, quality health care for only a select few and not for all America's families — all to upend Medicaid. Medicaid block grants are just one part of the strategy.
This guidance is a bred of a hyper-partisan and needlessly ideologically-divisive move veiled as an effort to contain program costs and improve health care in states, but ironically, will likely have opposite effects.
Statement
Media Advisory
Infographic
Video
Short Analysis
In-Depth Analysis
Webinar
Media Coverage
"Families USA executive director Frederick Isasi immediately criticized the Trump administration guidance Thursday, warning that it could wreak havoc on Medicaid beneficiaries and state budgets. "With state budgets already stretched thin, accepting Medicaid block grants could likely amount to willful fiscal malpractice and blatant disregard for the needs and interests of states and families," he said"
"Frederick Isasi, executive director of Families USA, said accepting the block grant is counter to what states should want for their Medicaid programs. "Why would a government ever agree to get less federal support?" Isasi asked. He said states that are interested in pursuing the policy are playing partisan politics to get into favor with the Trump administration. "Block grants are a sound bite," he told Inside Health Policy. "It's really about partisan politics."
"But Frederick Isasi, executive director of Families USA, a left-leaning think tank here, didn't see it that way. "The federal government is off-loading their financial obligation to states and families, and the governors are letting them do it," he told reporters after the event had concluded. "The main reason governors would do this is because it's a very partisan discussion that goes on in state capitals, so they can say they're doing something conservative like block grants."
Also opposed to the CMS proposal were such diverse groups as the American Society of Clinical Oncology (ASCO), AARP, the consumer group Families USA, and the Association of American Medical Colleges (AAMC).
Some states that have already expanded Medicaid are also likely to mull over converting their expansion population programs to block grants. The governors of Alaska and Georgia may feel pressure to follow this guidance, according to Families USA executive director Frederick Isasi, though "block grants are possibly the worst Medicaid idea ever presented to states by a federal administration."
"Any state taking this offer is engaging in fiscal malpractice," Eliot Fishman, senior director of health policy with advocacy group Families USA, said in a statement. "Furthermore, the administration is acting lawlessly. None of the statute regarding Medicaid match rates can be waived administratively." "We are better than this, and we—the American people—must hold the Trump administration and Republican members of Congress accountable," said Fishman.
Stories
Trish Sharp
Trish has several health challenges. She had gone into debt due to being uninsured seeking the medical care that she needed. She credits her well-being and life to Medicaid expansion in her state.
Quote: "I can now get the medical care that I desperately need," she said. "It feels fantastic. I'm so happy that Gov. Beshear accepted the ACA and expanded Medicaid."
Paul Gibbs
Paul would not have been able to get the necessary kidney transplant he desperately needed without the aid of Medicare and Medicaid. Now, as an adult with a pre-existing condition, he relies on the ACA-protections to keep him covered.
Quote: "I wouldn't be here without the ACA. My two children would not have a chance to be born… It gave me my life, it gave me family."
Katie Ramos
Katie was born with a condition that affects almost every system in the body and is extremely complex to treat. In 2015, Katie qualified for SSDI and Medicaid. Through Medicaid, she has been able to access doctors in Madison that finally have her condition somewhat manageable.
Quote: "I'm also lucky yet again: Wisconsin's Medicaid program is excellent. I don't pay anything, and I have access to the same doctors I've seen since I moved here in 2008."
Deb Stehr
Summary: Deb and her family had gone through long periods of time without health insurance. After more than a decade without coverage, she and her son –who has a chronic condition—were able to get insured by Medicaid. She knows without this coverage, her family would be in financial distress.
Quote: "I guess if you're not used to going to the doctor, it's hard to go."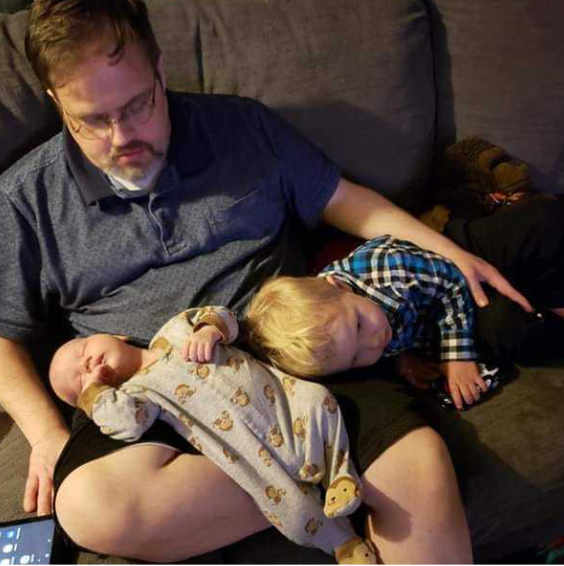 Paul Gibbs, Utah
Paul Gibbs was born in with a serious medical condition in both kidneys, which required him to have ... read more