Elizabeth Stone, Virginia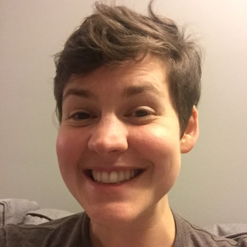 Elizabeth is a self-employed real estate agent in northern Virginia. She was diagnosed with Hodgkin's lymphoma in June 2012. While she has remained largely asymptomatic for the last few years, she has recently begun to experience symptoms like severe night sweats and difficulty standing for more than a few minutes at a time.
In 2013, Elizabeth largely stopped responding to treatment after two rounds of stem cell transplants. Because of the kind of Hodgkin's lymphoma that she has, she says that she will never be fully cured, but she could enter remission. She started clinical trials for new maintenance drugs and her treatments are only available through a remission expert in New York. While the cost of the medication itself is covered by the trial, the associated costs, which include transportation, bloodwork, and sometimes hospitalizations, are completely on her.
Elizabeth purchases her insurance through the Marketplace. Her plans have been canceled a couple of times, both her premium and out of pocket costs have risen.
Without access to insurance through the Marketplace, and without some of the protections, she says that she could dip into an inheritance for a few months, but then she'd be bankrupt and would eventually stop being able to afford treatment altogether. She's currently paying $490/month in premiums without any kind of financial assistance, with a high out of pocket cap. She's especially worried about any removal of protections for people with pre-existing conditions and a guaranteed ban on lifetime caps. "As science improves, people with conditions like mine will be living longer and longer. But the cost of that care is astronomical. We have to be able to continue to make treatments affordable for people, otherwise, we'll die."
In February of 2017, Elizabeth transitioned onto her husband's employer-sponsored insurance in July, 2019. She said that when she logged onto the exchanges this year, for the first time ever, it was more expensive for her to get marketplace insurance than to be on her husband's. However, the good news is that Elizabeth's care remained mostly uninterrupted despite the change in insurance. She only had to wait an extra week or two for a specific treatment but other than that there were no hiccups caused by her lapse in coverage. She stayed on her marketplace insurance between the marketplace open enrollment and her husband's employers.
Add your voice to those here to improve the health and health care of all American families
SHARE YOUR STORY