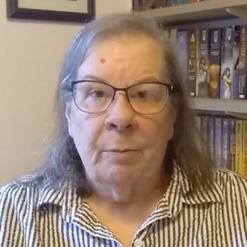 Cheryl's oral health quickly began to decline after her job was outsourced when she turned 62 and hasn't gotten better now that she is retired and covered through Medicare. When her position transitioned to different management, Cheryl's salary and benefits were cut. Her dental coverage only included cleanings and fillings but because she was working, she was able to afford additional teeth work, such as root canals. Frequent check-ups and cleanings is important for Cheryl as she has dry mouth, which contributes to the more rapid decay of her teeth.
Now that she is retired and only receiving income through Social Security and occasional dog sitting, she cannot afford to pay for a dental benefit, let alone the co-pays for procedures. Cheryl is covered through a Medicare Advantage Plan, opting for Part D, and likely gets extra help through the Qualified Medicare Beneficiary Program (QBM). The QMB helps to pay for her Part A and Part B premiums and all Part A and Part B co-pays. She pays $28 per month for Part D and pays $3 to $8 for her prescriptions. She feels thankful for her Medicare Health coverage. Four years ago, she had a heart attack and stayed in the hospital for five days. With Medicare and the QMB, she didn't have any out-of-pocket costs.
Because she cannot afford to pay for an additional dental benefit through Medicare, Cheryl pays $50 per visit to a dental clinic. $50 covers a cleaning, an exam, and any fillings. It doesn't cover the root canals and crowns she has desperately needed and the bridges she needs now. There have been numerous times Cheryl has gone to the dental clinic for a teeth problem and opted for pain medications instead of procedures to fix the tooth because of cost. "I have $10 for the medication but I don't have several thousand or even hundreds for the procedures." She has paid to get her teeth extracted from the dental clinic. Cheryl worries, "What if funding for dental clinics and community health centers get cut? Where will people go then? Where would I go?"
Cheryl has trouble chewing because of her poor oral health. She says she has to be careful with fibrous food, such as salads. "It sucks because it's not great for digestive problems. I think me not being able to eat well because of my teeth contributed to the heart attack I had." Cheryl has to take Ranitdine for acid reflux because she can't chew down her food enough. She doesn't like to go out to eat because it is embarrassing how she has to eat with only a few teeth left.
In addition to dental problems, Cheryl takes medication for diabetes, heart disease, high blood pressure, and high cholesterol. She takes Lantus (insulin), which is a Tier 3 drug and she pays $8 for it. Also for diabetes, she takes Metoprolol and Metformin, both of which are generics. For heart disease, she takes Toprol, which is generic. For high blood pressure, she takes Losartan, which is generic. For high cholesterol, she takes Ezetimibe, which is generic. She pays $3 for each of her generic medications. Without Medicaid, she says, "It would impact me horribly. I wouldn't be able to afford to go to the doctors or afford my insulin. My dental health would even be worse."
Add your voice to those here to improve the health and health care of all American families
SHARE YOUR STORY