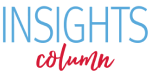 Our Nation's Health Depends on Fixing Persistent Health Disparities
With the passage of the Affordable Care Act, more Americans can afford quality health insurance. However, having health insurance does not always equal having access to high-quality health care. This is especially true for people of color, who historically have had to grapple with racial and ethnic health disparities. Many people of color continue to face barriers to obtaining high-quality health care, and our nation's health is closely tied to addressing these obstacles. Raising awareness about these issues is one of the reasons we created a series of infographics showing how racial and ethnic health disparities continue to undermine the well-being of millions of Americans.
Racial and ethnic health disparities (the differences in health status and outcomes between different racial and ethnic populations) have been well-documented for decades. And the disproportionate burden of chronic disease that affects communities of color exerts pressure on our health care system. As our nation becomes increasingly diverse, the need to address these health disparities is more urgent than ever: Racial and ethnic minority communities in the United States are expected to become a majority by 2035. Given that people of color will be a growing share of health care consumers and of tomorrow's workforce, it is easy to see how the country's overall health and economic vitality is inextricably linked to the health and wellbeing of people of color.
The Affordable Care Act is an enormous step forward in reducing the health disparities that affect communities of color, but there's still a lot for advocates and community leaders to do to achieve equal health opportunity for all—an equal chance to be healthy.
Racial and ethnic health disparities disproportionately affect our nation's fastest- growing communities
Some racial and ethnic health disparities have been improving. For example, there has been a decrease in HIV deaths among African Americans, as well as fewer diagnoses of advanced-stage breast cancer among Hispanic, Asian, and Native American women.
But serious health disparities continue to afflict minority communities. To raise awareness about minority health disparities, we created a series of infographics that show how different racial and ethnic communities are disproportionately affected by a range of health issues compared to non-Hispanic whites.
The Affordable Care Act includes measures to reduce health care disparities
While there are many factors that contribute to health disparities, having access to timely, affordable, high-quality health care in a language that a patient understands and that is respectful of and responsive to his or her cultural background is essential for improving minority health. Thanks to the Affordable Care Act, advocates, providers, and communities have new or improved tools and protections  to tackle these inequities.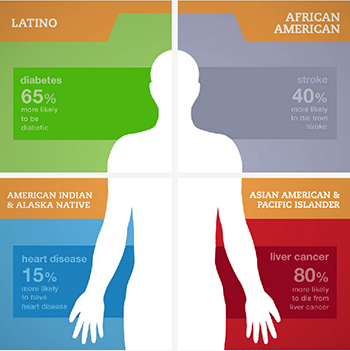 These demographic groups are disproportionately affected by a range of health issues compared to non-Hispanic whites.
To begin with, the health law's new coverage options have placed affordable health insurance within the reach of millions. The Affordable Care Act also requires health plans to cover a comprehensive list of preventive services at no extra cost, including an annual check-up, HPV vaccines, mammograms, Pap tests, and colonoscopies.
The opportunity to receive preventive care is invaluable to communities who struggle with disproportionate burdens of preventable chronic disease and serious conditions, such as cancer. Compared to non-Hispanic whites, people of color are more likely to die from cancers of the breast, cervix, liver, stomach, and prostate (depending on the community they are from). Through prevention and early detection, more people will now have access to the screenings and tests that are vital to reducing the incidence of and deaths from cancers.
More funding for community health centers expands access to culturally-competent care, including care for the remaining uninsured
Community health centers (CHCs) have a decades-long history of providing high-quality, language-accessible, culturally-competent care for minority communities, regardless of their insurance status, their ability to pay, or their immigration status. In fact, 62 percent of patients at community health centers are racial and ethnic minorities.
The Affordable Care Act included a substantial increase in funding for community health centers to expand existing centers and create new ones. This has strengthened their ability to care for more people, as well as to educate and enroll their communities in marketplace health plans.
The health care law also contains important measures that are designed to improve disparities in health care, such as:
collecting data to help focus our efforts and track whether disparities are improving
promoting the employment of community health workers in underserved areas
providing scholarships to primary care providers that work in minority communities
expanding the U.S. Health Services Corps
supporting the training of professionals in cultural competency
Over time, these strategies should help increase access to and quality of health care for people of color.
Racial and ethnic health disparities undermine our nation's well-being and economic future
To improve our health care system and ensure a healthy workforce, it is imperative that our nation addresses these health disparities.
While the Affordable Care Act represents a breakthrough in the effort to eliminate health inequalities, our health care system must continue to evolve to not only tackle expensive chronic diseases and their complications, but also to develop effective and targeted strategies for communities of color that are culturally competent and language-accessible.