Non-Group Health Insurance: Many Insured Americans with High Out-of-Pocket Costs Forgo Needed Health Care
The Affordable Care Act has increased access to health insurance and financial assistance for millions of Americans. But even with the new assistance that helps consumers pay their premiums and out-of-pocket health care costs, one-quarter of consumers who buy insurance on their own still have problems being able to afford needed care.
This report and related infographic looks at the portion of adults who went without needed medical care because they could not afford it, as well as the possible causes of those affordability issues. We also discuss actions that health insurers and state and federal governments can take to make out-of-pocket health care costs more affordable.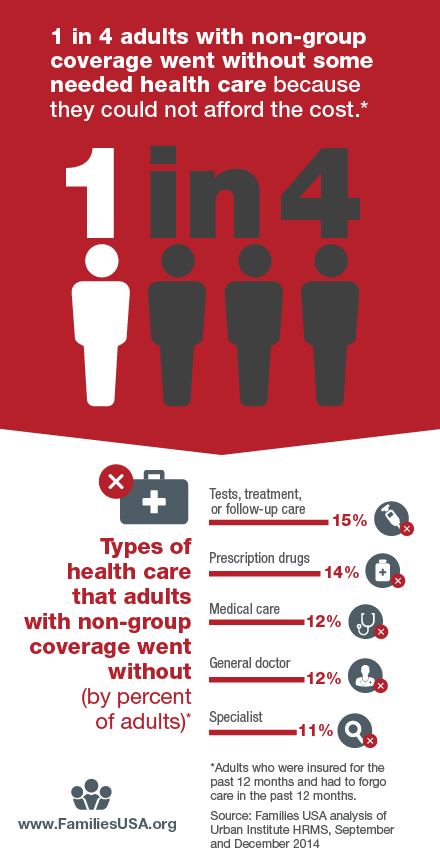 One-quarter of health care consumers with non-group insurance have problems affording care
Health insurance involves different types of costs that consumers must pay out of pocket—ranging from a health plan's deductible to copayments at a doctor's office. Unfortunately—as our report shows—for many Americans with non-group coverage, deductibles and other out-of-pocket costs are prohibitively high and are associated with many of these insured consumers forgoing needed health care.
Our study examined adults who bought private health insurance in the non-group market in 2014
This report analyzed data from the Urban Institute's Health Reform Monitoring Survey (HRMS) on adults who bought private, non-group health insurance (as opposed to having insurance from an employer or a public coverage program) for themselves or their families in 2014.