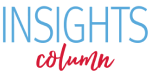 Changing the world around you- Getting your community covered with Kevin Han
Kevin Han is the Strategic Partnerships Associate at Families USA, where he strengthens Families USA's relationships with partner organizations. Before joining Families USA, he worked as a health navigator for Hamkae Center (formerly NAKASEC VA) in Virginia, which organizes Asian Americans to achieve social, economic and racial justice. As a navigator, Kevin helped enroll clients in affordable health coverage, and built strategic partnerships with community health organizations and providers. On the 12th anniversary of President Obama signing the Affordable Care Act into law, we sat down with Kevin to hear how he's seen the ACA improve people's lives.
Hi Kevin, thank you for joining us.
Thank you for having me!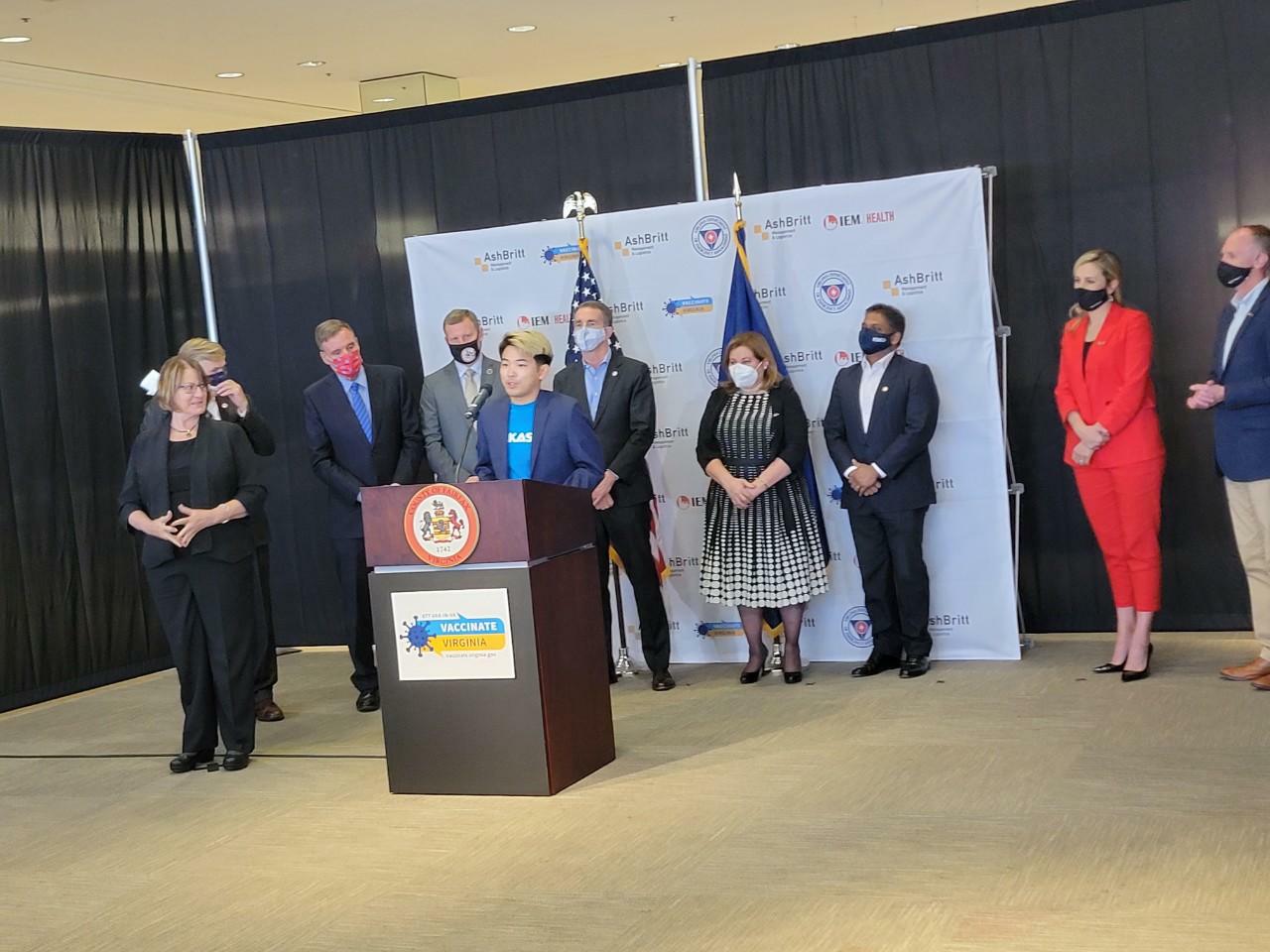 Han speaking at a press conference with former Governor Northam, while working as a Navigator
How did you first decide you wanted to be a navigator? What drew you to that position?
In the midst of a pandemic, I decided to follow what I was interested in at the time, which was health care. I wasn't familiar with the role of "navigator," but I wanted to learn more about health coverage while serving the community I grew up in. Hamkae Center provided me with invaluable experience on the ground.
What were some challenges you helped your clients face? What were some challenges that you weren't expecting?
It was definitely challenging to help clients virtually, especially those who didn't have access to technology or needed assistance utilizing it. We conducted appointments through Zoom, and we helped clients set up their accounts on healthcare.gov and walk them through the system. Another significant challenge is language access. Most documents, from the application itself to follow up materials, are in English. I recall having to join a client at a dental clinic because they did not have anyone else to interpret for them – I directly witnessed the challenges that people in Linguistically Marginalized Communities face. As a Korean speaker, I worked primarily with the Korean immigrant community in northern Virginia. At my time there, Hamkae Center had staff who were fluent in Korean and Vietnamese. Outreach materials were rarely in Korean, whether they were from community partners, health insurance companies, or from local, state, and federal policymakers, so we would have to translate them ourselves. Although a help line is available for the Marketplace and Medicaid, the wait times can be long and folks are often not connected to someone in their preferred language.
What did getting health care coverage mean for your clients? What care did the coverage help them get?
For many of my clients, it was their first time getting health care coverage. Many people benefited from recent policy changes, like the expanded advanced premium tax credits (APTCs) and extended Open Enrollment periods, which made coverage more affordable and gave more time for people to enroll. Having health coverage provided my clients with reassurance, in case they had medical emergencies. By enrolling in the marketplace, folks are able to see their doctors, go to the dentist and get the medication they need.
You worked mainly with the Asian American community – did they face different challenges than other communities?
Although language access affects many communities, I believe it affects each community in different ways. The Asian American community is not a monolith, yet we are often treated as such and not invited to the policymaking table. Lack of language access hurts people's access to vital information, such as receiving an explanation of benefits that is only in English. Combine that with the backdrop of increasing hate crimes against Asian Americans, and it can take a toll on people's mental and physical health. My priority is to elevate our community's voices so that the health challenges we face are addressed in state and federal policies.
Based on your experience, how would you say the ACA has tangibly changed people's lives?
One thing I appreciated about being a navigator was that I could directly see those tangible changes firsthand. All of my clients came from different walks of life, but they shared one thing in common: the need for affordable health coverage. With Marketplace coverage, people can attend to their health needs without paying extreme out-of-pocket costs. Folks can also choose the Qualified Health Plan (QHP) that fits their personal needs, like how often they plan to go to the doctor. COVID has particularly shown how essential health care is, especially as people went through life changes like unemployment. On a personal note, I have family and friends who have coverage through the ACA and wouldn't be able to afford healthcare otherwise. When I was a dependent under my parents, I was enrolled in the Marketplace and am grateful to have been covered through their plan.
What is one memory you'll always take with you from your experiences as a navigator?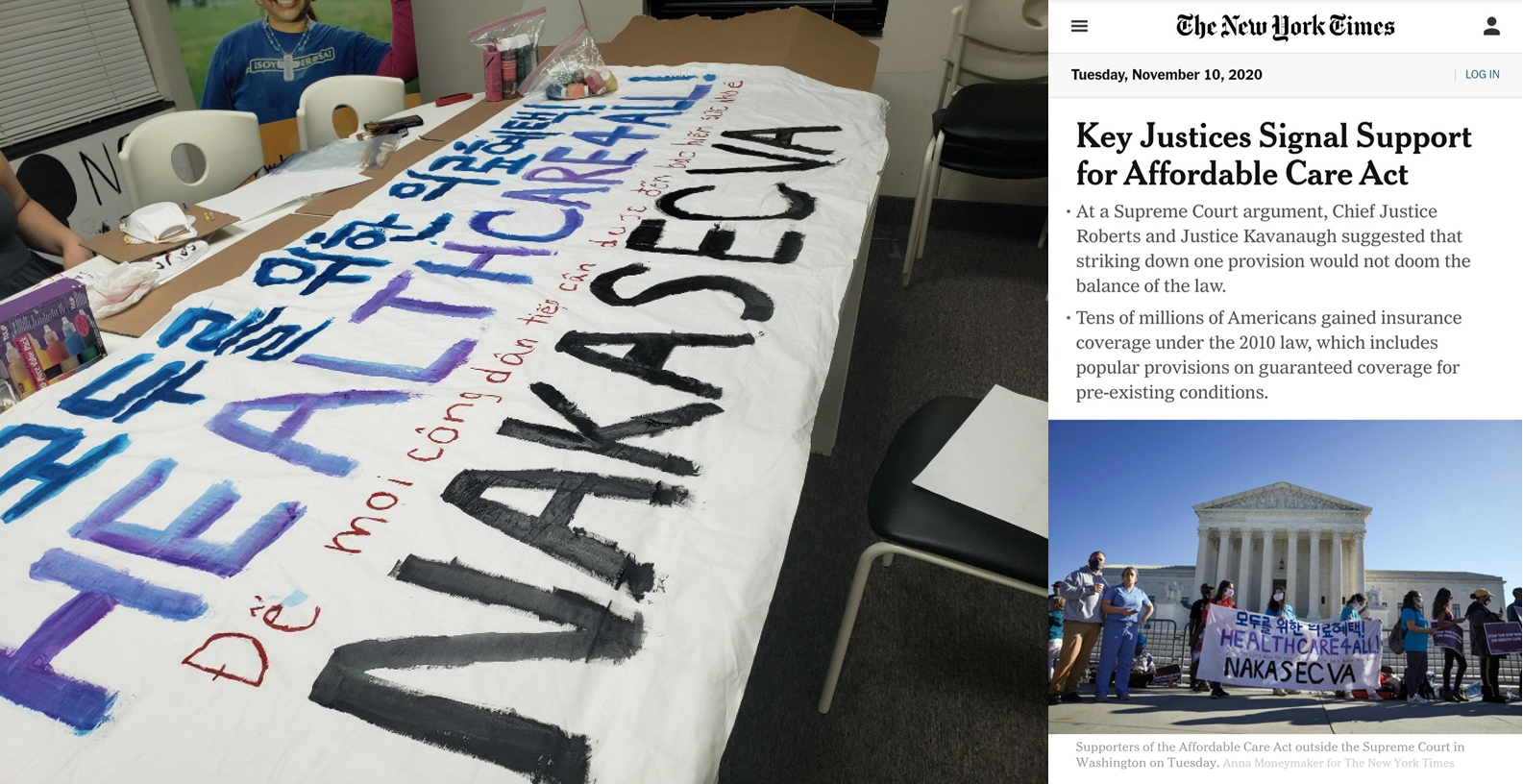 I remember painting a banner that our team was going to bring to a rally the next day in support of the ACA. It was around the time the Supreme Court was hearing California v. Texas, which could've potentially dismantled the ACA. We painted "Healthcare For All!" in English, Korean and Vietnamese. That banner ended up on the front page of The New York Times, forever enshrined in history. I will always cherish my experience as a navigator because it laid a foundation for how I approach health care and taught me to center my work around the people.