1115 Medicaid Waivers in Utah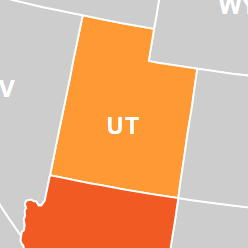 Current Status
In November 2018, Utah voters passed a ballot initiative to expand Medicaid up to 138 percent of the poverty level. In February 2019 Governor Herbert signed legislation that repealed the voter-approved Medicaid expansion and replaced it with an expansion of coverage up to 100 percent of the Federal Poverty Level. This legislation aligns with the state's June 22, 2018, and February 6, 2019 waiver amendment requests. On March 29, 2019, CMS approved a waiver amendment to partially expand Medicaid and add a work requirement and cap on enrollment.
Then, on May 31, 2019, the Utah Department of Medicaid released its proposed waiver seeking a "per capita cap" –or a limit on federal spending –on major portions of its Medicaid program. If approved, this waiver would set a new precedent that could have catastrophic effects for state budgets and Medicaid programs in the future. In addition to the previously approved work requirement and enrollment cap, this new waiver application also proposes enhanced federal match for the partial expansion population, lockouts for "intentional program violation," and a waiver of hospital presumptive eligibility.
According to a statement from Utah Governor Herbert, CMS informed the state on July 27, 2019, that if the proposed waiver was submitted to CMS in its current form, it would not be approved. A statement from CMS issued July 29, 2019, confirms that CMS will not approve states' requests "to cover only a portion of the adult expansion group and still access the enhanced federal funding." Following the state's submission of its new waiver application, CMS sent a letter to the Governor indicating that it will not approve waivers requesting an enrollment cap and enhanced federal match for partial expansion. Although it has been informally denied, this waiver is still technically pending CMS approval.
In accordance with state law, due to CMS's informal denial of Utah's Per Capita Cap Waver, the state will request CMS approval of a new "Fallback Plan" waiver to fully expand Medicaid up to 138% FPL, instead of 100%. In addition to a full Medicaid expansion, the state is also required to request CMS approval for a work reporting requirement, a cap on enrollment, a lockout for "intentional program violation," a requirement to enroll in employer-sponsored insurance (ESI), and a number of other provisions. The state public comment period for the proposed "Fallback Plan" waiver is now open. The proposal is available here. Public comments can be submitted here.
In accordance with state law, for the fallback option to be implemented, Utah must receive CMS approval for two provisions —the work reporting requirement and the ESI enrollment requirement. If CMS does not approve these provisions, the state will implement a clean full expansion similar to the ballot initiative that voters approved in November 2018.

Waiver History
In June of 2016 Utah sought renewal for its longstanding Primary Care Network (PCN) waiver, which extends limited benefit Medicaid coverage to certain categories of adults who would otherwise be ineligible for Medicaid.In addition to a renewal of the PCN program, pursuant to Utah state law HB 437 passed that year, the state also requested Medicaid coverage for adults without dependent children (the population that would be covered under the Medicaid expansion) under 5 percent of poverty who met certain criteria (homeless, mentally ill, etc.). CMS neither approved nor denied this waiver. In August 2017 the state requested an amendment to the 2016 PCN waiver still pending at CMS. In June 2018, pursuant to Utah state law HB 472, the state submitted another amendment asking for approval of a partial expansion with work requirements and capped enrollment.
The waiver comment period closed on August 4, 2018. View submitted comments here.
Note: This summary details the 2017 and 2018 expansion and PCN waiver requests.
Comments Submitted
Population Covered
The Montana HELP program covers childless adults in the Medicaid expansion population (19-64) who make less than 138 percent of the federal poverty level, or about $16,000 per year for a single person.
Both the 2017 and 2018 waiver amendments both address coverage for two adult groups: non-caretaker adults (the "expansion group") and parent/caretaker relatives (the PCN group).
The expansion group. In the 2017 waiver amendment request, the expansion group is adults without dependent children who make less than 5 percent of poverty who are either
chronically homeless
justice involved with a mental health or substance use disorder
receiving General Assistance benefits and has a mental health or substance use disorder.
The June 2018 amendment request extends that to include Medicaid coverage for adults 19 to 64 with incomes up to 100 percent of poverty, with Utah receiving the full enhanced federal expansion match.
Primary Care Network (PCN) Group: Several populations including parent/caretaker relatives, working adults and their adult children,among others, at varying income levels (around 200 percent FPL for most). If the June 2018 waiver adding a partial expansion group is approved, eligibility for the PCN group would change from 0 to 200 percent of poverty to 100 to 200 percent of poverty.
Components
Other Resources
Enrollment Caps
In its June 2018 request, the state is asking to limit expansion enrollment to 70,000 to 90,000 to stay within its appropriated budget.
Time Limits
The June waiver amendment does not include any time limit for the adult partial expansion group (up to 100 percent of poverty).

The 2017 amendment request included a time limit for both the more limited expansion group and the PCN group, with enrollment limited to 60 months. Exemptions to these time limits are modeled after the SNAP program.
Partial Expansion
Learn more about Partial Expansion
Work Requirement
The state is asking to add a work requirement that would apply to the newly eligible partial expansion population. The requirement would apply to adults age 19-60 with exclusions for: those physically/mentally unable to work; parents/others caregiving for a child under age 6; other caregivers; individuals participating in substance use treatment; individuals receiving or is waiting for a determination on unemployment insurance benefits and has registered for work at the Department of Work Services; students enrolled at least half time; individuals participating in refugee employment services; individuals receiving TANF or issued a Family Employment or TNAF diversion payment; individuals working 30 hours per week or making the equivalents at federal minimum wage; pregnant women; members of a federally recognized tribe; individuals receiving SNAP who comply with SNAP work requirements.
Individuals subject to the work requirement will be required to complete "participation requirements" within three months of Medicaid enrollment. Once completed, individuals are eligible for the remainder of their 12 month enrollment period. "Participation activities" include: online job training, online job searches, job contacts. Individuals who do not meet the requirement will be disenrolled. They may re-enroll after required activities are completed or if they meet an exemption. The state would include "good cause" exemptions based on disability; birth or death of a family member living with the individual; inclement weather making compliance impossible; family emergency or life-changing event; or inability to participate due to lack of transportation or child care. Learn more and get advocacy strategies to combat work requirements.
Cost Sharing
For certain PCN enrollees, the state proposes charging $25 for each non-emergent use of the ER. Learn more and get advocacy strategies to combat cost sharing.
Benefits (generally)
The expansion population is entitled to full Medicaid benefits under the program, with the exception of EPSDT for 19 and 20 year olds (see below). The PCN group is limited only to certain limited primary care services, not the full range of Medicaid benefits.
Benefits(EPSDT)
In both the 2017 and June 2018 waiver amendments, the state asked to waive EPSDT requirements for 19 and 20 year olds for the expansion population. Learn more and get advocacy strategies to combat waivers of EPSDT.