1115 Medicaid Waivers in New Hampshire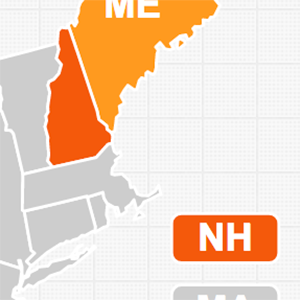 Current Status
Prior to Judge Boasberg's ruling, work reporting requirements began on June 1, 2019 with disenrollments set to begin in August of 2019. However, on July 8, the New Hampshire Department of Health and Human Services submitted a letter to the Governor and state legislature citing authority under SB290 to delay implementation of work requirements by 120 days. The letter reported that, despite "extensive efforts" to notify beneficiaries of the work reporting requirement, the state has no compliance information for nearly 17,000 beneficiaries who are subject to the work reporting requirement. The state delayed implementation of the work reporting requirement until October 1 and intended to continue its outreach efforts and update its eligibility system.

This delay served as further evidence that there is no good way to implement a work reporting requirement without it resulting in the loss of health coverage for Medicaid beneficiaries. Despite the state's best efforts to inform beneficiaries of the reporting requirement through public information sessions, advertising on radio and social media, multiple telephone calls and letters to beneficiaries, and door to door canvassing, the state failed to obtain compliance information for thousands of beneficiaries who are subject to the work reporting requirement and are therefore at risk of losing coverage if the state implements the work reporting requirement.
On July 23, 2019, U.S. District Judge James Boasberg heard arguments in the lawsuit challenging CMS' approval of New Hampshire's work requirement waiver. Less than one week later, on July 29, 2019, Judge Boasberg ruled to vacate CMS's approval of New Hampshire's waiver. Boasberg's memorandum opinion is available here.
Waiver History
The initial waiver was approved in 2014 through December 2018. It included a private option and a voluntary work referral program. In May 2018, CMS approved an amendment to add a work requirement. In August 2018, the state submitted a waiver request to CMS to end the private option, extend the work requirement for five additional years, omit retroactive eligibility, instate an asset test, and require added identification for citizenship and residency. CMS approved the work requirement extension, request to omit retroactive coverage, and private option termination on November 30, 2018. Requests to add an asset test to Medicaid expansion and require additional citizenship documentation were not approved. See CMS's approval letter. On March 20, 2019, a lawsuit was filed in the U.S. federal district court to challenge CMS's approval of the work requirement waiver.
Comments Submitted
Population Covered
The New Hampshire waiver covers the Medicaid expansion new adult populations, childless adults (19-64) with incomes below 138 percent of the federal poverty line.
Components
Premium Assistance (Private Option); terminated by the state, 2018 waiver request.
Other Resources
Work Requirement
All expansion enrollees must participate in 100 hours per months of "community engagement" activities (employment, education, job skills training or community service) starting January 1, 2019. Enrollees who do not meet the requirement for 1 month will have enrollment suspended until they can demonstrate that they meet the requirement. Medically frail are exempted as are additional individuals, including caretakers, people with serious illnesses, people with disabilities, pregnant women.
Cost-Sharing
The state can vary cost-sharing based on income (higher cost-sharing for individuals with incomes above poverty who are not medically frail).
Retroactive Coverage
The state has approval to omit Medicaid retroactive coverage. Coverage beings as of date of application.