1115 Medicaid Waivers in Massachusetts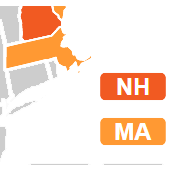 Current Status
MassHealth is a statewide, multifaceted health reform initiative began in 1997. The Medicaid expansion is folded into MassHealth. June, 2017 Massachusetts submitted a narrow amendment to its longstanding MassHealth1115 demonstration. In September, 2017 the state submitted a more comprehensive amendment to the MassHealth program. The comment period for the second waiver closed October 20, 2017 and is currently awaiting approval.
Population Covered
The MassHealth waiver amendments cover childless adults (19-64) below 138 percent of the federal poverty line (the Medicaid expansion population). It also covers parents and caretaker relatives.
Components
Benefits (NEMT)
The state seeks to waive non-emergency medical transportation (NEMT) for all Medicaid expansion for transportation to substance use treatment services. Learn more and get advocacy strategies to combat NEMT waivers.
Partial Expansion
The state seeks to limit Medicaid coverage to adults under 100% of the federal poverty level while still claiming the enhanced federal match under the Affordable Care Act. Learn more and get advocacy strategies to combat partial expansion.
Impact on oral health: Adults above 100% of poverty, who now get Medicaid dental benefits, will instead enroll in marketplace plans that do not include dental. They could receive dental services through the Health Safety Net of community clinics and hospitals or purchase stand-alone dental plans for about $30 a month.​